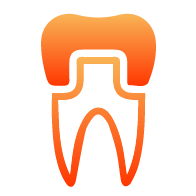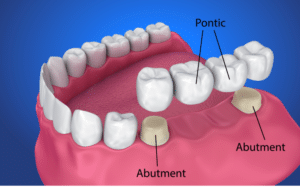 Dental bridges are often used to fill in gaps and/or protect one or more of your teeth and the integrity of your mouth's structure. In addition to boosting your confidence, they can be an excellent solution for restoring your mouth to a healthier state and will protect other teeth from sliding into gaps created by missing teeth. When creating your bridge, our top priority is to restore and/or preserve the health and function of your teeth, gums, and jaws. The added benefit is that crowns and bridges together play a significant role cosmetically for you–giving you the natural, beautiful smile you desire!
What is a fixed bridge?
Your bridge will be made to span any gaps caused by one or more missing or broken teeth and will be anchored by dental crowns mounted permanently on your neighboring teeth (called abutments, or retainer crowns). The space between the abutments is filled in a way that looks and feels like natural teeth (called pontics). These abutments and pontics are essentially multiple, linked crowns that Dr. Duffy and his team (including our excellent dental lab) will create using all-ceramic zirconia.
Fixed bridges are often more economical than dental implants, more permanent than dentures, and may be partially covered by dental insurance. They are also less invasive than dental implants, can repair and strengthen damaged teeth on either side of the spaces at the same time as closing the gaps—and provide lasting results for years.
What is a removable bridge?
A removable bridge is a common term for removable partial dentures and is important to distinguish from a fixed bridge. The "partial" should be taken out of your mouth on a regular basis for cleaning and maintenance but will efficiently replace all missing teeth on one jaw or the other with a single appliance. In most circumstances, Dr. Duffy prefers to install fixed bridges for his patients (because they feel more natural, are less bulky, and do not affect speech or taste). He is available to answer any questions you have, as well as to help explore the pros and cons of fixed and removable bridges or dental implants.
At-a-glance benefits of dental bridges
Your primary goal may be to restore your teeth and smile, but fixed bridges offer benefits you may not be aware of:
Strength: Dental bridges add strength to places in your mouth that previously included gaps, loose teeth, or decayed teeth, allowing you to eat normally and protecting the integrity of your jaw
Overall health: Your improved dental health may have a positive effect on your overall health. People living with decay, and missing or broken teeth are at a higher risk of developing gum disease and infections that may spread to other parts of their body, not to mention impaired nutrition from reduced chewing ability. Taking positive action regarding your teeth and gums can lower your risk for oral disease and conditions affecting your body
Protection for other teeth: Stabilizes and keeps existing teeth from sliding into the gaps caused by missing teeth, as well as restores teeth adjacent to the spaces (the abutments)
A natural look to your mouth: The new teeth on your bridge— abutments and pontics (artificial teeth between the two abutments)—will look and feel natural and healthy! Additionally, we will color-match them to your natural teeth or help you whiten your natural teeth to match your new bridge
Restore or maintain a normal facial structure: If you have missing teeth, you may have noticed that the structure of your face has changed due to the changes in your jawline and support for your lips and cheeks. Your dental bridge will help you regain a normal facial structure and possibly help in other areas such as speech
Boost your confidence: People who have chipped, cracked, or missing teeth, may be hesitant and self-conscious about smiling. It is our hope that from your first consultation through your care, you will begin regaining any lost confidence as you look forward to the day you can fully smile and experience the joy of your restored dental health
The process
Several initial steps will be involved including planning (impressions, x-rays, or other images to ensure healthy, predictable anchor teeth) to creating and installing your dental bridge. Dr. Duffy will look to remove the minimal amount from your existing teeth to make way for the abutment crowns that will permanently secure your dental bridge. However, your teeth may require rebuilding and strengthening, as needed, if they have existing worn-down fillings or cavities. At the same visit, you will be fitted with temporary teeth for use while your permanent bridge is made. Dr. Duffy will outline your exact timeline for you and before you know it you will be smiling naturally again.
Caring for your bridge
Since fixed bridges are, well, fixed in place as a single unit though appearing like separate teeth, Dr. Duffy and his team will review your home care with you, especially if you have any unique needs. However, with consistent flossing or the regular use of a Waterpik® or similar water cleaning tool under your bridge, this can be an excellent solution to meet your restorative dental needs!
Learn more
Schedule your appointment to learn more about dental bridges and other options that may be best for you.
To schedule a free consultation or appointment with Dr. Duffy, call us at (253) 525-5186 or use our convenient "Request an Appointment" form.