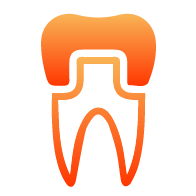 Dental Crowns in Gig Harbor, Washington
Not only do we help you clean and maintain a healthy strong smile, but Dr. Duffy and his team at Peninsula Family Dentistry also provide high-quality, precise restoration work for every patient in a comfortable, calm environment. When you have a dental issue such as a cavity, having a beautiful, strong and properly placed restoration, such as a dental crown, could save you time and money wasted on repetitive procedures. Like the rest of our work, each dental crown is designed to look and feel natural and to protect your tooth and the integrity of your mouth's structure..
When a large cavity in a tooth is detected and removed, it may be impossible to restore properly with a traditional tooth filling. A dental crown covers the entire top portion of the tooth, restoring its full, intended shape.  
What is a Crown?
The natural "crown" of each of your teeth is the outer visible portion that allows you to perform daily functions. The crown shape is what gives each tooth its unique characteristics. For some, cavities in the enamel are frequent and common, but if they aren't taken care of quickly, they can spread and infect most of the tooth.
Dental crowns are custom made to fit into your unique smile. Each crown is made to match the size, shape, and color of your surrounding teeth and blend into your natural smile. Each dental crown is an artificial tooth made out of strong porcelain that can withstand the pressure and force of chewing. 
Why a Dental Crown?
Our precision-engineered crowns are generally used when most of the enamel is removed due to a cavity. Leaving it uncovered can lead to severe decay tooth loss–not to mention painful! Crowns can also protect cracked or damaged teeth.
Crowns provide your teeth with 360-degree protection and are made to look natural– blending in seamlessly with your other teeth.
Porcelain is a durable, artificial material with a pearly white sheen. The artificial material is also immune to cavities and decay, protecting your remaining original tooth and root. 
Dental crowns can last you decades, if not a lifetime, with proper care and maintenance.
Crowns are also used to cover one or more dental implants to achieve a beautiful smile. Dr. Duffy is an excellent choice if  you are looking for an expert to create the crowns that will complete your implant process.
When you come into Peninsula Family Dentistry with a large cavity that needs to be treated, we can 
help you decide which restorative option is best for you. While tooth colored
 composite resin fillings have advanced tremendously in strength and versatility, Dr. Duffy often recommends the dental crown for its durability and natural look. And rest assured, when you choose us,  if you have any concerns or post-procedural discomfort, we will want to know so we can help you right away!
To schedule an appointment with Dr. Duffy, call us at (253) 525-5186 or use our convenient "Request an Appointment" form.