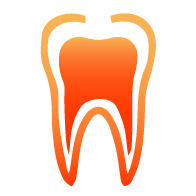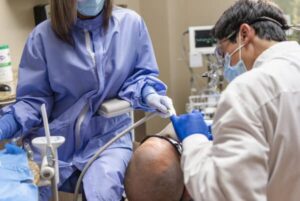 If you have a deep cavity, your tooth may have developed an infected nerve space which will cause the tooth to die. This could mean a root canal is your best choice to save your tooth and prevent the spread of infection. Millions of teeth are preserved each year with this tooth-saving procedure.
A root canal, also known as root canal therapy, will preserve your tooth for eating, maintain your appearance, and provide needed support for your jawbone and the teeth on both sides of the infected tooth.
Signs you may need a root canal
One or more of these symptoms may indicate that a root canal may be a solution for you:
Severe pain while chewing or biting
Pimples on the gums
A chipped or cracked tooth
Lingering sensitivity to hot or cold, even after the sensation has been removed
Swollen or tender gums
Deep decay or darkening of the gums
What about pain?
During a root canal, you can be assured that we have a variety of ways to keep you pain-free and comfortable throughout the entire process. We will be happy to tell you about our oral sedation options.  Most people who have had root canals, report that their discomfort is no more than what they experience during a filling. The symptoms that indicate you need a root canal are usually much worse than any discomfort you feel during your procedure.
What to expect
A root canal procedure technically involves one appointment–however, it may be followed up with a second appointment to place a permanent crown over it for protection.
Root canals involve accessing the affected root through:
Your tooth (with or without existing fillings)
An existing crown that can be preserved along with the remaining tooth under it
An existing crowned tooth that will need a new protective crown due to extensive decay or other issues
Dr. Duffy will explain how he expects to help you out of pain and preserve your tooth against future damage.  His recommendations will be based on your dental history, your X-ray images, and what he observes from his initial examination of your teeth, gums, and mouth.  Once the procedure is underway, Dr. Duffy and his team will not only make sure you are made aware of any changes based on their findings, but they will make sure you are comfortable from beginning to end.
During this initial appointment, Dr. Duffy will carefully remove the pulp– your tooth's soft core including blood vessels and the nerves. Once this infected tissue is removed, the entire length of the root canal space is disinfected and sealed off.
If you need a new crown, a custom, tooth-colored porcelain crown will replace a temporary crown at your second appointment. And rest assured, Dr. Duffy will work with you during your recovery period, should any concerns arise.
Considering tooth extraction?
If you are considering tooth extraction instead of a root canal, please talk with Dr. Duffy before making your decision. Both procedures will ease your pain but remember—nothing feels or functions better than your own teeth.
Learn more about custom tooth-colored porcelain crowns.