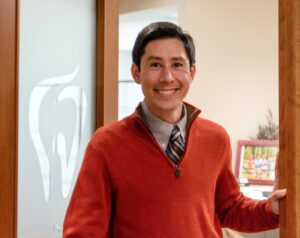 Dr. Thomas Duffy, DDS, received his Doctor of Dental Surgery degree from University of Washington School of Dentistry in 2014. While there he was part of the third class of the RIDE Program (Regional Initiatives in Dental Education) which emphasizes early clinical skills, a broader skill set often called for in more rural or underserved areas, and direct collaboration with multiple healthcare specialties.
In the first five years after completing his training, Dr. Duffy developed these and many new skills under good mentorship in a private practice in Shelton. Now he is excited that Gig Harbor is home for Peninsula Family Dentistry.
Dr. Duffy's belief is the human person is a whole greater than its parts. He says, "Therefore, in health care, we cannot examine and treat individual systems in isolation—we must compassionately and accurately consider the whole person. Dentistry really is a specialty, a subset of medicine which itself is a part of health care."
Read what our patients say about Dr. Duffy and his team.
Dr. Duffy was raised in Redmond, Washington, cultivating passions for photography, classical piano, tennis, hiking, marksmanship, and computer repair. He attended Thomas Aquinas College, a small, liberal arts, Catholic college in California, with an emphasis in philosophy, mathematics, and theology.
He and his wife Sarah, a Gig Harbor native, met while attending the UW for their respective doctorate programs in dental surgery and music. They now have four girls and a boy. Sarah is the organist at their parish, and Dr. Duffy is active in the Knights of Columbus and the parish men's group.
Dr. Duffy is a member of the American Dental Association, Washington State Dental Society, and Pierce County Dental Society.