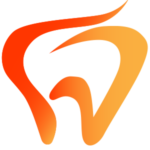 Our skilled, yet calming team will put you at ease right from your first appointment
Dental hygiene appointments—also called teeth cleaning appointments—help you achieve your healthiest teeth, mouth and gums! You'll want to schedule these appointments at regular intervals, usually twice a year.
Adults – what to expect at your cleaning appointment
Once you're settled, Dr. Duffy or a dental assistant will ask about your medical history, examine your mouth and decide which digital X-rays you may need for an accurate, complete checkup.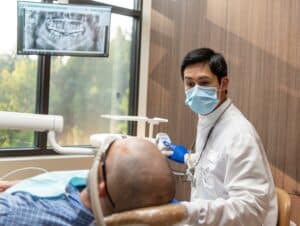 Gig Harbor's Most Trusted General Dentistry Dentist
Are you looking for general dentistry in Gig Harbor, Washington? Come to Peninsula Family Dentistry for all your dental needs. Dr. Thomas Duffy is committed to providing excellent dental care for the entire family. He has extensive experience working with adults, children, and the elderly, and would be delighted to welcome your family into his practice. Unlike other dental offices, Dr. Duffy prefers to do most of your restorative care (fillings and other "dental work")  himself, ensuring that your results  meet his high standards and that you and your family are well-cared for and comfortable. And if Dr. Duffy believes you need a referral to an outside specialist, he has strong relationships with local experts whom he trusts.
Trends  come and go, but at Peninsula Family Dentistry, we embrace one thing that should remain constant: following the highest standards of outstanding care and craftsmanship. Our goal is to provide an innovative and individualized patient experience. To that purpose, not only do we use the most up-to-date technologies to provide the best possible treatments. But nothing is more fulfilling to our staff than our relationships we build with the people who trust us with their care. Our goal has always been to make your visit comfortable, informative, and relaxing while fulfilling our commitment to these high standards.
General Dentistry and Your Oral Health
Maintaining a healthy lifestyle requires routine dental care and Dr. Duffy is passionate about the fact that your oral and overall health are intertwined. The American Dental Association recommends that you visit the dentist regularly, and we can help you figure out how often you should do so. Regular visits can help you avoid common dental problems like cavities and gum disease (gingivitis) or identify existing disease processes before they progress into root canals or advanced gum disease (periodontitis) and loss of teeth. They also help identify potential issues or systemic diseases that affect your teeth, gums, tongue and jaw, as well as affect your overall health.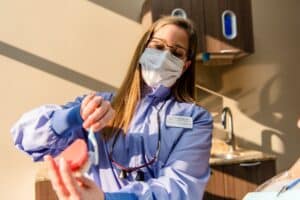 Our Services Include:
Dental Hygiene/Cleanings 
Exams & X-rays
Fillings
Dental Crowns
Dental Bridges
Dental Implants
Dentures, including partials, immediate, and fixed hybrids commonly called all-on-four ® 
Root Canals
Tooth Extractions
Cosmetics
And, more!
Our practice is here for all of your dental needs, from a simple checkup and cleaning through the dental implant process. No matter what stage of life you're in, taking care of your teeth is essential! Our knowledgeable staff will gladly assist you in receiving the preventative and restorative care you require to keep your teeth healthy, as well as any other general dentistry treatments you may need.
"It's Been a While Since I've Been to the Dentist"
We recognize that people do not go to the dentist regularly due to hectic schedules, a lack of insurance, or simple forgetfulness. Don't worry if this describes you; you're not alone! Failing to have a dental checkup can put you at risk for a range of health problems. We advise you to set aside time in your day to improve your dental health and quality of life. To get started, give us a call or make an appointment online. We can't wait to meet you!
General Dentistry Protects Your Smile
General and family dentistry encompass many dental treatments aimed at helping you achieve and maintain optimal oral health for a lifetime. Whether you are bringing your child for a simple dental checkup or you need a more complex restorative procedure like a crown or rebuilding a broken smile, we are here to care for your family's smiles. Our experienced team is pleased to provide comprehensive general and family dentistry to meet all of your dental needs and goals for a healthy, beautiful smile.
No Insurance? No Worries
If you don't have dental insurance, talk to us about our in-house Dental Membership Plan. Pay month to month or once a year to save even more. This plan is not an insurance policy and there are no deductibles or pre-approvals—it is simply a more-affordable way to help you get the dental care your family deserves.
Schedule a General Dentistry Appointment Today
Whether you are new to the Gig Harbor area or you're simply looking for a dentist, we offer a superior dental experience at Peninsula Family Dentistry. To learn more about our services and schedule your family's visit to our friendly office, we welcome you to contact us today.
For more information, call (253) 525-5186, chat with us or use our handy appointment request form. 
Learn more about Dr. Duffy, our philosophies, and our team here.