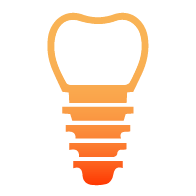 Full-Arch Dental Implants

Be assured that whether you need some or all of your teeth replaced, from the day of your first procedure, you will never be without the teeth you need to eat, talk, and enhance your smile. From the beginning, we want to give you a new lease on life!
First, let's clear up some "implant terminology."
If you are considering having all of your upper and/or lower teeth replaced by dental implants, be aware that you may see several different names for this process including full arch dental implants, fixed-hybrid dental implants, all-on-4 dental implants, and full mouth dental implants. At Peninsula Family Dentistry, we use the term Full Arch Dental Implants to explain that we are replacing all of your teeth on your upper and/or lower arch. (Each "arch" includes your gums, bones, and teeth).
Why are You Considering Dental Implants?
Imagine a brilliant all-new smile. Full-arch dental implants may be an excellent restorative solution—especially if you wear full dentures or have significant issues with all or most of your teeth. Full-arch dental implants are used to replace an entire upper and/or lower arch of teeth supported by usually four or six fixed posts made of biocompatible titanium. The implants will be connected by an abutment and topped with and covered by strong, custom-designed beautiful porcelain crowns. Many patients with numerous teeth to replace find this procedure more cost and time-efficient than managing their teeth individually.
When you choose dental implants, for one arch or both, you'll discover a wonderful answer to:
A lifetime of poor-to-marginal dental health
Multiple decayed, loose, or missing teeth, and large gaps
Endless dental appliances and procedures, or being fully dependent upon dentures
Feeling socially awkward with a broken or partial smile
A Lifetime of Benefits Ahead
Your problems will be solved by new upper and/or lower full-arch dental implants. They will look, feel, and function like natural teeth. Best yet, the biocompatible titanium implants are considered permanent, and your crowns which are affixed to the implants will last about 15 years, though with proper care we intend them to be lifetime solutions.
Improved Oral Health, a Stronger Jaw, and Better Nutrition
Once fully healed, you'll enjoy eating anything you wish—from the cob to nuts or biting into an apple! And did you know that traditional dentures, or existing gaps from missing teeth, will eventually weaken your jawbone? They can also cause your face to sag due to a lack of structural support. Dentures may also cause sores and irritate the gums.
Dental implants allow your jaw to strengthen naturally and help you chew your food more efficiently. Data suggests that people choosing full-arch dental implants gain significantly more nutrients due to improved chewing compared to those who wear conventional dentures. Once the biocompatible titanium fuses with your jawbone, your new teeth will function the way they are designed to–with up to 80-90% chewing efficiency compared to healthy natural teeth, and significantly increased nutrient absorption compared to conventional dentures!
A Boost in Function, Aesthetics and Confidence
Your dental implants will help give you a beautiful and genuine smile. You may also find that your speech is clearer, especially if you are used to slipping dentures or gaps that challenge your speech.
Match your new teeth to existing teeth!
Whiten your remaining teeth to match your new teeth
OR if you are having both your upper and lower arches replaced, we'll help you choose a shade that you love
Before you know it, you'll be tearfully smiling through your daughter's wedding toast, glowing in family photos, or confidently enjoying a gathering of friends or colleagues.
Time For a Consultation?
At this point, you may have more questions than answers, so please know Dr. Duffy is available for a consultation to help you determine if full arch dental implants are right for you. Request your consultation today!*
*If you choose Peninsula Family Dentistry for your implants, Dr. Duffy will credit back your initial consultation fee for you and subtract it from your invoice total. The offer does not include X-ray or imaging costs.
Schedule using our request form or call us at (253) 525-5186 today.